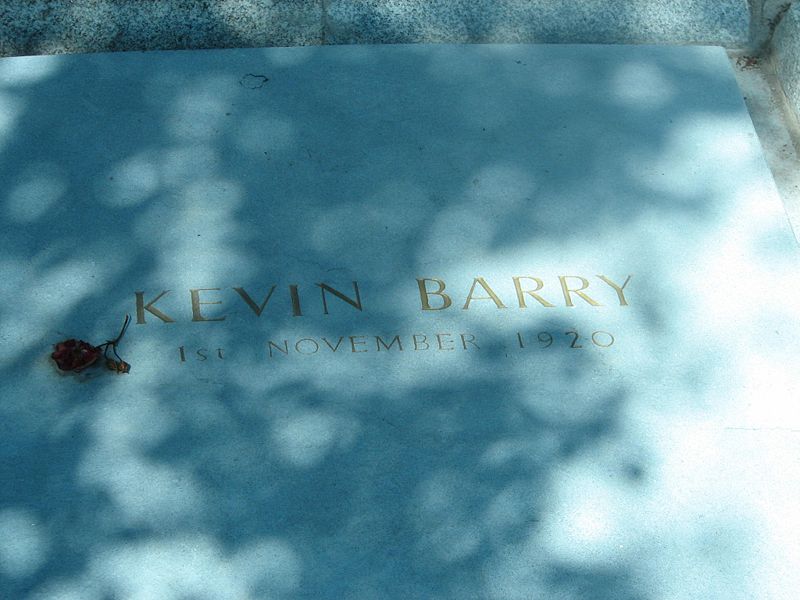 1‭ ‬November‭ ‬1920:‭ ‬Execution of IRA Volunteer Kevin Barry on this day.‭ ‬Betrayed by a local after the shooting dead a British soldier he was tried and sentenced to death.‭ ‬A Medical student in UCD he was just‭ ‬18‭ ‬years old when he was hanged in Mountjoy Prison.‭ ‬His brave stance under torture and through his ordeal gained the admiration of many and his death became the subject of the famous ballad that bares his name.‭
He was a Volunteer of the Dublin Brigade IRA when on‭ ‬20‭ ‬September his Company ambushed an army bread van on Queens Street in the City Centre.‭ ‬In the ensuing gun battle a British soldier was shot dead.‭ Two more died of their injuries. ‬The Volunteers withdrew from the scene when British reinforcements arrived.‭ ‬They escaped except for Barry who was captured while hiding under a lorry.‭ ‬While it is believed Barry's pistol jammed in the attack there is no evidence that he fired any of the fatal shots.‭ ‬He was court-martialled and sentenced to death by the British on‭ ‬20‭ ‬October.‭ ‬Despite widespread pleas from many people and organisations for a stay of execution on the morning of November‭ ‬1‭ ‬1920‭ ‬at‭ ‬8.30‭ ‬am he was led out to the gallows and executed by hanging.‭
Barry spent the last day of his life preparing for death. His ordeal focused world attention on Ireland. According to Sean Cronin, author of a biography of Barry (Kevin Barry), he hoped for a firing squad rather than the gallows, as he had been condemned by a military court. A friend who visited him in Mountjoy prison after he received confirmation of the death sentence, said:
He is meeting death as he met life with courage but with nothing of the braggart. He does not believe that he is doing anything wonderfully heroic. Again and again he has begged that no fuss be made about him.

He reported Barry as saying "It is nothing, to give one's life for Ireland. I'm not the first and maybe I won't be the last. What's my life compared with the cause?"

Practically his last words before being led out to his place of execution were:
The only message I have for anybody is hold on and stick to the Republic
Kevin Barry was buried in the yard of Mountjoy Prison but in October‭ ‬2001‭ ‬his remains along with nine other executed prisoners were transferred by the Irish Government to Glasnevin Cemetery Dublin and re interred in a specially prepared plot.‭ His grave is near the entrance and along with his comrades is one of the most frequented places in that vast cemetery.